Thy Fearful Symmetry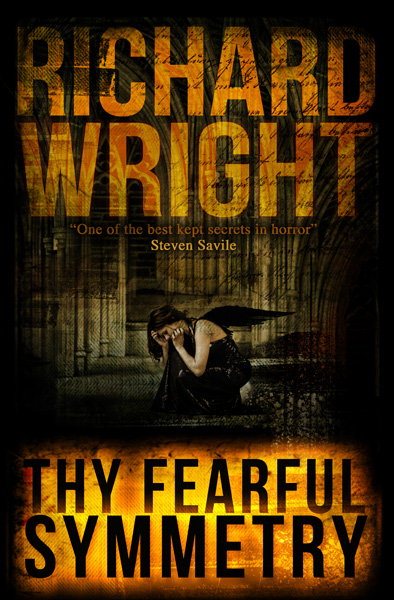 Blood will flow. Fire will fall. Days will end.
"One of the best kept secrets in horror." – Steven Savile, international bestselling author of 'Silver'.
The end of the world started in Glasgow, with a kiss.
Two people – two creatures – fated to be eternal enemies downed their blazing spears and loved. To do so they broke rules hardwired into the DNA of the universe.
The universe noticed. The universe broke.
Now Heaven and Hell are hunting them. Nobody on earth can help them. Worst of all, the fabric of reality is unravelling around them, the Apocalypse has been brought forward a millennium, and it might all be their fault.
On cold streets, the last tattered remnants of humanity must draw faith in a world that has no more use for them. As the masses pray and crawl on bloody knees, the few must restore the fearful symmetry between good and evil for the sake of all.
The apocalypse comes to Glasgow, in paperback and in all ebook formats.
Available in paperback and for the Kindle at Amazon.
Reviews:
"Imagine a world where fire rains from the sky at the same time as pure, white snow. A world where the dead walk the Earth. Faced with that, logic goes out the window. The people in this story are raw and real. Broken and sullied. Terrified." – Jessica Torres, Hopelessly Devoted Bibliophile
"Thy Fearful Symmetry rewards you for your patience with a seamless narrative, energetic writing, an inventive and complex storyline and a stunning climax with one final audacious surprise." – Lavanya Karthik, Bookpleasures.com
"I would definitely recommend this book to everyone who loves horror, dystopian or apocalyptic books. Wright has a beautiful imagination. Well done." – Melissa Perea, The Indie Bookshelf
"Probably the best thing about this book is the very human moments within it. Whenever there's a great tragedy, we sometimes tend to look at the big event and not see the human faces attached. By following each of these people, there are faces, lives, and stories to go along with the end of the world." – Marisol Dunham, Indie Books R Us